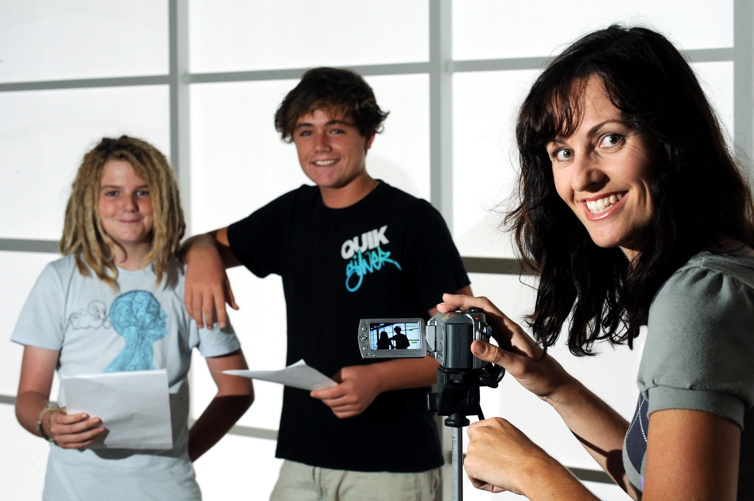 We're shedding some light on what to expect when auditioning for some of the top acting schools in Australia: NIDA, WAAPA and QUT.
Recently they hosted their annual auditions for entry into the 2013 acting course. One of my students and emerging actor, Luke Cosgrove, did the rounds. He applied for NIDA, WAAPA and QUT. The following is his detailed experience of the somewhat grueling but exciting process.
It's not for the faint hearted that's for sure. NIDA auditions actors in front of each other while WAAPA and QUT interview you first. That's why we've put together this comprehensive account of what to (potentially) expect when you audition for NIDA, WAAPA and QUT in 2013 for the 2014 acting course. Sometimes the scariest part is the 'not knowing'. Anxiety mounts up as you prepare your pieces and it increases dramatically when the time draws near. So to help alleviate any anxiety attacks and burst the bubble of the unknown we've done our best to give you the heads up. Enjoy the insight aspiring actors! And please if you auditioned for any one of these or any other acting school, e.g. VCA, then we'd love to hear about your experience. We'd especially love to hear from those that have either been accepted into a school or received a call back audition.
Here's Luke Cosgrove's account. All auditions took place in Brisbane.
NIDA
Pieces performed (2):
Romeo (Shakespeare's Romeo and Juliet) & Doug (Mark Joffe film, Cosi)
Venue:
Huge, empty room with a stage (i.e. a theatre). Huge space to work in. Approx. 40 actors can fit. This means you have nothing but depth to play with. No chair or props to use.
Judges:
2 judges in total. One for each group of 20 actors (the big group of 40 was divided into two).
Warm-up:
2 judges and senior students take the actors on a warm-up. Consists of walking around the whole room, focus exercises, warming up the body, facial exercises such as yawning, stretching, assassin/guard game (fun, soothes the nerves and encourages objectives/obstacles), art gallery game (recite lines while pretending to be viewing art in a gallery: shifts focus off the dialogue). Approximately runs for 20 minutes.
Performance:
Actors performed in alphabetical order based on their surname. Each actor performs one piece in front of one judge and the 19 other actors in their group then the second piece in front of  the other judge with the same 19 actors. Essentially you perform for both judges in front of the other actors. Each monologue is performed only once.
Outcome:
After you've performed your first monologue you have lunch then perform your second monologue. Then wait around for approx. 45 mins until you hear something back. Fingers crossed it's a call back audition!
WAAPA
Piece performed (1):
Hamlet (Shakespeare's Hamlet)
Venue:
Huge, open room with 2 judges sitting at a table. There's a senior student upon check in offering guidance.
Judges:
In front of 2.
Interview:
Before performing each actor sits opposite the judge panel to be interviewed.
Interview Question Examples:
What have you been up to this year?
Are you just out of school?
Something specific to application. E.g. I see you performed in a short film, Cyber Sin, what's it about?
Do you do any acting classes?
Any questions about the script?
Performance:
Was directed to re-do it almost opposite way actor performed it. Performed it 3 times.
Outcome:
Actors informed they would receive a call within the hour if they received a call back.
QUT
Pieces performed (2):
Rico (Play by Nick Enright, Blackrock) & Doug (Mark Joffe film, Cosi)
Venue:
Creative precinct at QUT. In a huge, empty room.
Judges:
3 judges plus 3 senior students.
Warm-up:
3 groups of approx. 12 with one judge and senior student each. Senior students take you through a warm-up. Actors are asked to introduce themselves and volunteer some information, e.g. why you want to be an actor. Exercise: running around yelling yeah (positive exercise). Stretch/relax exercise (helps alleviate nerves).
Actors wait until called in to perform individually in front of panel.
Interview:
Same as WAAPA, also:
Why do you want to study at QUT?
Performance:
Actor got to choose which performance to do first. Actor performs each piece once and the last part of the monologue multiple times (this may vary from actor to actor). Actor then interrupted, given new direction and told to continue from where actor left off. This can be tricky to get your head around sometimes!
Outcome:
Received a call back email within couple of hours.
Callback Audition:
4 days later with one of actor's original monologues (Rico, Blackrock). With a different judge and 3 senior students.
Interview again. Similar to previous.
Performed piece and used one of the students to perform opposite for assistance.
Received email that night of unsuccessful. 🙁
All three acting schools have a selection of monologues for you to choose from, alternatively you may select one of your own. But double check with their application process before selecting one of your own.
While Luke wasn't accepted into one of the schools (yet!) it was a massive opportunity of growth for him. His initial reaction was anger, huge disappointment and generally upset. This is to be expected given the amount of preparation I know he put in. He will audition again in 2013 and he has an advantage as he already knows what to expect, unless they dramatically change the audition process (which is possible: you must remain open and flexible at all times). He will spend the next 12 months gaining more experience and constantly honing his craft.
Please remember that if you too weren't accepted, these acting schools are not everything when it comes to acting. Yes they help with opportunities when you graduate. However, Heath Ledger didn't attend a school. It really comes down to how determined and passionate you are about your chosen path.
An idea of what these acting schools are NOT looking for is High school level performances. Actors must go beyond this. Be fearless. I believe this also includes how well developed your technical skills are, e.g. voice and body. There are 3 main tools available to actors: voice, body and imagination. However, many aspiring actors get lazy with the first two. Like an elite athlete you must constantly hone your craft every day. I strongly recommend singing lessons for actors to learn correct breathing and how to use the voice effectively from the belly. I also recommend yoga for breathing, relaxation, strength and focus. The less mind clutter the more 'in the moment' you'll be. No easy feat for young people.
So if you plan on auditioning in 2013 I suggest working on your monologues now, and take up singing and yoga. This is an investment in your passion. I find it interesting that not one of these schools auditions actors with two-hander scenes. Sometimes the listening/reactions are more important than the dialogue. I'm also curious as to whether they generally have an age minimum for entry. I notice that many accepted students are not fresh out of year 12. They have gained a couple of years of life experience first. Highly valuable in my opinion. But if you're auditioning straight from secondary school and the judges know that they're not going to accept you because you're too young, then I don't think it fair that you don't have the heads up. So if you still audition knowing this then you've just gained some fantastic auditioning experience. This is an important point I'd like to clarify.
I will endeavour to gain an interview with some of the experts at the acting schools to further close the gap on auditioning for them and what to expect. An interview with some graduates would be beneficial too.
I'd love to hear your feedback and opinion on this subject and what you think of this article. Thanks and best wishes with your acting pursuits!