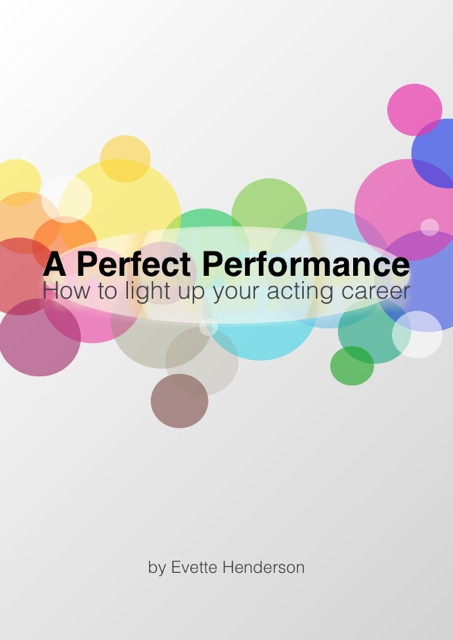 Finally… the moment has arrived. I have finished my second book on performance and very soon (hopefully next week) I'll have the e-book version available for you in time for Christmas and the printed version early next year. If you'd prefer to wait for the printed version feel free to email me your enquiry now so you'll be one of the first to receive it and not miss out as it'll be a limited print run!
So what's all the huff and puff about?
A PERFECT PERFORMANCE is my second book on performance (with a third coming out next year). In a nutshell…
Learn how to nail your performance every time in 50 pages. For actors of any age and experience who want to master their craft truthfully and confidently at any given moment in given situation.
 "A Perfect Performance" is clear, concise and well-written; based on proven recipes for success from around the globe and from Evette's own backdrop of vast experiences in the industry." Marie Seltenrych.
How is this possible you ask?
Easy. I've taken three of Hollywood's most popular acting techniques, Chubbuck, Morris and Meisner, along with the years of interviewing industry experts and condensed it all into one easy to read and even easier to apply practical hand-book. You'll be able to easily take this book with you on set or to stage.
Here's a teaser from one of the chapters to whet your appetite:
HOT PERFORMANCE TIPS
Learned from first-hand experience in the audition room, on set, and by interviewing many directors and casting directors worldwide, I guarantee you will learn something new from the following comprehensive list. Most of these insider secrets are not the kind of info you'll learn in a classroom, which is why it's gold. This is the real deal!
ETIQUETTE:
•Professional courtesy is great but be careful with the word "sorry". For example, if you forget your lines, do not apologize. You are not expected to be perfect and apologizing takes away from your credibility as a professional actor. Simply move on with the audition. Focus, focus, focus!
•A director is much happier when an actor shows up with her own ideas about script and character interpretation, compared to an actor waiting for complete direction. Make choices and remain flexible.
•It pays to understand everyone's role on set. Why? It makes you a well-rounded, understanding, and professional actor. Tom Cruise is renowned for, when first starting out, having picked everyone's brains on set to understand what they did.
AUDITIONS:
•Don't go into your audition with the aim to impress. Enter the room completely connected to your character and stay focused on your objective and the scene at hand.
•Know that every casting director is different. After interviewing dozens over the years, if I learned one thing it's that they all host auditions differently. I remember one casting director that preferred actors to remain standing in one position while others liked actors using the space. If you're unsure, just ask. If you plan on sitting down when it's obvious the casting director expected you to stand, don't assume it's okay. Ask if you can sit. Don't be afraid to ask. They want you to be the best actor for the role because you've just made their job easier.
•If you plan on using the space in your audition and the casting director is okay with it, remember that the use of depth is far easier and more effective than moving sideways and all over the room. In other words, for camera purposes, moving backwards and forwards has a great impact on your performance with very little distraction to the camera, whereas if you move sideways you run the risk of falling out of frame.
•When given a script for auditioning always take note of the page number if it's included. This will give you an idea of where the scene and your character sit within the entire story. Knowing where the scene fits into the overall script can help you interpret how climactic the scene is.
*********************************