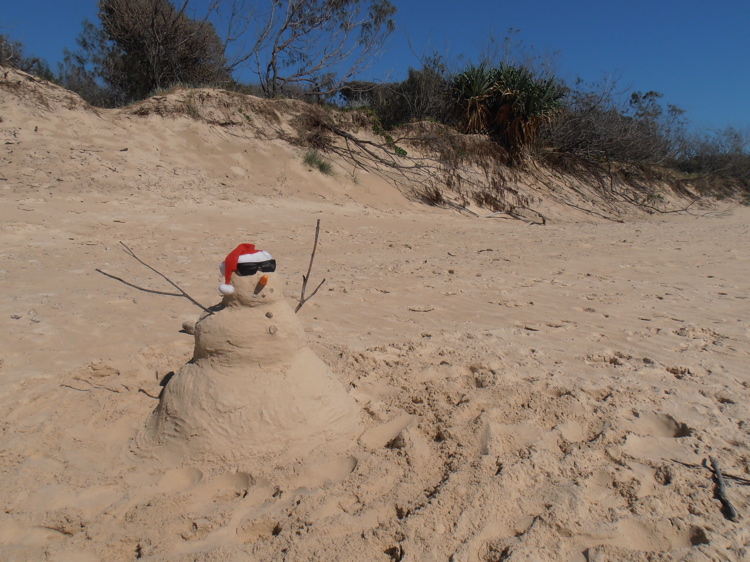 33% discount to the
first 100 people!
Lucky Friday the 13th is here! Yay! My latest book on acting, A Perfect Performance is officially on sale today. But get in quick as the first 100 people will get a 33% discount off the RRP. Buy it today for only $10 instead of $14.95.
"I have read it 2 times now and I treasure it. As a seasoned actor myself, I think it's a great reminder what all of us artists should strive to do for the amazing craft of showbiz!" Nicole Mason.
A SANDY CHRISTMAS STORY
by Evette Henderson
Once upon a time there were two baby cherubs and their mummy cherub. When they woke up it was a glorious day on the Sunshine Coast where they lived. After two days and nights of much-needed rain the sun rose in all its glory. The baby cherubs were excited. So mummy cherub took them down to the beach very early before baby cherub #1 attended her last day of school.
When they got to the beach mummy cherub built a snowman out of the perfectly wet sand while baby cherub #1 took care of baby cherub #2 as sometimes he can be a little destructive. And mummy cherub didn't want baby cherub #2 destroying the sandy snowman before it was finished.
It took mummy cherub a very long time to build the sandy snowman but after much hard work gathering all the sand she was finished. She was so excited she called to the baby cherubs to come quickly before it fell apart.
They ran as fast as they could so mummy cherub could take pictures of the baby cherubs standing next to Sandy, as they now called their snowman made out of sand. The baby cherubs were very happy with Sandy and thanked mummy cherub for making him.
THE END
Hope you enjoyed our little Christmas story. If you want to make a sandy snowman like we did there are a few facts you should know first that have been conveniently omitted from the story:
It took me a bloomin' hour to make! Initially Sandy was going to be half the size but cherub #1 complained about how small he was.
And even  though the sand was perfectly wet it still kept falling apart.
Those beautiful cherubs I spoke of earlier did nothing to help other than put the hat on top. Risking my life to do that bit just wasn't worth it.
You actually don't get thanked by the cherubs like in the story (it just sounded better) and
Nor do you get credit for the hard work. Cherub #1 has gone to school saying she built a sandy snowman this morning!
Was it worth it? Check out our photos below and you tell me. Merry Christmas thesps!
Our beautiful beach at Peregian Beach. 7am this morning. Perfect!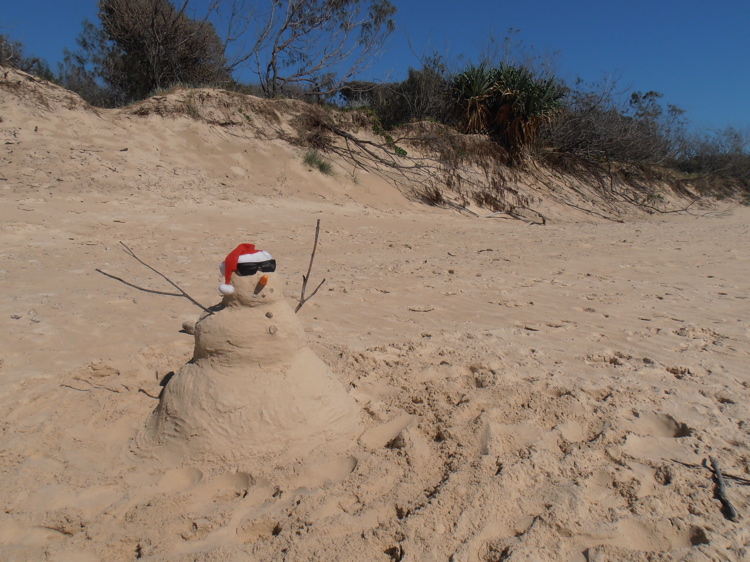 'SANDY' – the snowman from down-under.
The two baby cherubs looking perfect!
No prizes for guessing who baby cherub #1 and cherub #2 are
(you know the cute destructive one)!
Oh so sweet…