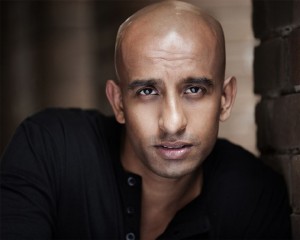 Actor, Rakesh Dasgupta
Meet Australian based Indian actor, Rakesh Dasgupta, who has firm sights on fulfilling his Hollywood acting dreams!
Born in a small city in India, Rakesh had decided at a young age that all he wanted to become was an actor. Rakesh's grand vision of bright lights became an obsession that has stayed with him today.
Like most of us, however, Rakesh's story isn't all tulips and rainbows. Life for Rakesh started out quite harsh after years of abuse, which led to difficulties with speech. He stammered his way through a problematic life to the point of suffering permanent physical injuries. Taking a leap of faith that most of us only read about or see in the movies, he left his beloved homeland forever and ventured into the unknown.
Rakesh made his way to Australia with only $50 to his name and a few English words. Initially this ambitious young man's dream started out more like the grim reaper's worst nightmare as he spent many a night in bus shelters and regularly visited the Salvation Army for food. Getting a job was a mission impossible with his lack of English. Times were tough. Rakesh was desperate.
However, this is a story of how one man overcame hardship. It's a story of how one actor will fulfil his dream at any cost. He was too far down the rabbit hole to turn back now so with years of dedication, hard work and a determined mindset Rakesh set out to become a professional actor; starting with mastering the English language and his thick accent.
Rakesh is an example of the kind of iron will every actor needs to fulfil his destiny. Instead of leading a path of destruction that in some ways would have been easier, Rakesh hightailed it in the opposite direction.
While demons don't disappear overnight, as Rakesh knows full well, he's finding peace with them as he is lured to the bright lights of Hollywood. Along the way Rakesh is sharing his story with other struggling actors with the hope of inspiring them on the importance of never giving up.
"Acting has saved my life," Rakesh said.
When all eyes are on you in Hollywood, appearance is everything, so against the advice of doctors Rakesh set out to transform his image by working a rigorous daily regime for months (see photo below). Since money was tight every dollar was accounted for, right down to the last green bean! Failure was never an option for Rakesh in spite of not being able to afford basic acting classes. He gained his invaluable training and experience on set in unpaid roles for student films in Sydney. This quickly led to lead roles and TV commercials. As his confidence grew so too did the interest from agents. After spending months knocking down their doors, Rakesh signed on with TCM and landed paid co-star roles in feature films and TV series. His latest project, feature film 'Down Under', gave him a taste of his grand Hollywood dream as it took him to Los Angeles.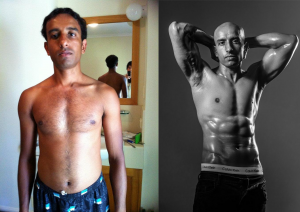 Rakesh Dasgupta, before and after months of getting in shape
L.A. was the launching pad for his first Casting Director workshop. His riveting performance was received with silence as the entire audience was left speechless.
The moment he'd been working so hard for came and went with the blink of an eye though when at the end of the workshop he was offered a role in an American feature film only to have to turn it down due to not having a working Visa. Something he is still currently working on, but sees only as a minor setback.
In lieu of no Visa he was offered theatrical representation from a leading agency in Los Angeles. It was in that moment when he realised he had found home. He has since returned to Australia full of hope; knowing that he will soon fulfil his Hollywood boulevard of dreams.
Life is never a bed of roses for an actor. We all hail from different parts of the globe with backgrounds more colourful than a psychedelic party at Austin Powers, but the infallible kinship between all actors everywhere transcends instant respect for each other. The 'never give up' attitude might be an overused phrase today, but it's oh so true!
"With belief, anything is possible. Soon I'll be a working actor in Hollywood. It's not a matter of if, but when."
Good luck Rakesh! Message us from Hollywood! 🙂
If you are an actor and have an interesting story to tell please share it by emailing it to: actors@ozemag.com