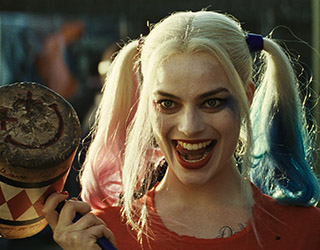 Take your pick bad guy fans. Who is the worst bad guy in DC history? What keeps you up late at night? Who is the baddest amongst the baddies?
Village Roadshow have compiled their list. Check it out to see how close you were!
Let me say this… it's NOT Harley Quinn. But should it be?
The irony here is we can't help but lurv all DC bad guys and gals! So how do you pick the worst? Some of DC's bad guys haven't even been transformed into real life by an actor yet, so no doubt whoever the actor is playing the villain has an impact on your opinion. Or does it?
I can't go past Heath Ledger's Joker. He drew us back to the root evil originally written into the character. I know, I know, Jared Leto did a brilliant job. But it was Heath who crossed the line and took us all out of our comfort zone.
Don't forget Scarecrow played by Cillian Murphy. Remember him? Now he was good too. What can I say? I'm a 90's Batman fan. I'd even go as far as saying that no one can beat Michael Keaton as the man in black haunted by bats. Christian Bale's interpretation was an artistic masterpiece, but I honestly believe that once you're hooked on one actor as the hero or villain then it stays forever.
While I'm at it, what would you choose? Hero or bad ass villain? Is it wrong to say that playing a bad gal comes naturally to me?
And whose worse: guys or gals?
Can you name a DC bad guy who hasn't been portrayed by an actor? What villain are you obsessed with that's not on Roadshow's list.
Check it out below. You might be surprised! And if you don't agree, tell them!
https://roadshow.com.au/articles/2017/6/dc-villain-bad-o-meter?utm_source=exacttarget&utm_medium=email&utm_campaign=defined_newsletter_jun17