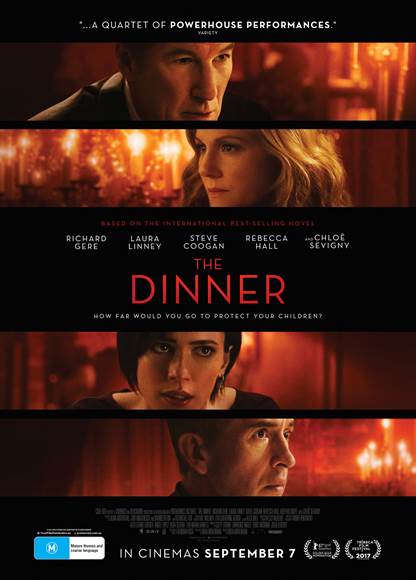 Based on the International Best-Selling Novel by Herman Koch
You are cordially invited to The Dinner at one of the most exclusive restaurants in town.  A 5-course degustation of fine wine and fancy food that only the most privileged get to enjoy.
In The Dinner, Stan Lohman (Richard Gere), a US Senator running for Governor, and his wife Katelyn (Rebecca Hall) meet with his brother Paul (Steve Coogan), a mentally unstable ex-school teacher, and his wife Claire (Laura Linney) for dinner.
Piece by piece the story unfolds and this is not a happy occasion as the tension of the meeting is felt from the get go.  Paul is not all together there as we see his life unravel in a series of flashbacks that allow us to take a glimpse into the life of a person with mental illness.  It is Stan, the good son, who keeps the family from unravelling; he is the voice of reason and morality throughout The Dinner.
I would have much preferred The Dinner at McDonald's!
A number of issues rise out of this clunky plot that stumbled its way from beginning to end. It was hard to follow and stay focused as the continual flashbacks echo sentiments of a bad Woody Allen movie.
Out of the mist of his ramblings of life we get a 5-minute presentation about cheese from the Maitre D' of the restaurant.  Was it necessary? Did it forward the story?  No, no, no.  It just stood out like the sore thumb that a good portion of this movie was.
The real reason for The Dinner seems to reveal itself in the last 15 minutes. And appears to challenge viewers on how far would you go to bail your child out of trouble?
I really didn't enjoy this movie at all and even thought about walking out a number of times. I felt both uncomfortable and furious. I'm not sure what Hollywood veteran Gere was thinking when taking on this role as he mumbled and bumbled his way around his character Stan. It came across as a flawed script with multiple attempts to raise various issues that seem too much for one movie.
This was two hours of my life I will never get back!
1/5
Belinda Dolan
IN CINEMAS SEPTEMBER 7, 2017