How to audition for a TV Show in the U.S. by Alastair Osment, Australian Actor and WAAPA Graduate
How to audition for a TV Show
The audition for the Krypton TV series came through my US Manager at Industry Entertainment, and I found out a 5 days before I was due to fly to LA that my audition was being fast-tracked to the executives and that I would have a recall audition in the room once I arrived in LA.
The whole process was kick-started by simply booking a ticket to LA! There was a 48 hour flash sale with $799 return tickets to LA, for 2 years I had been wondering if I should travel to the States and questioning when the right time to go was… When I saw this incredible deal I jumped at it – at it was that leap into abyss that opened the door for everything that came after.
Two of my best friends, Daniel Webber and Cody Fern, live and work in LA. Dan has worked on 11.22.63 (Hulu) with James Franco and produced by J.J Abrams and The Punisher (Netflix) with Jon Bernthal. Cody had recently completed filming on the independent feature The Tribes of Palace Verdes starring alongside Jennifer Garner and produced by Robbie Brenner (her follow up to Dallas Buyers Club).
Once I had booked my ticket, both Cody and Dan reached out to their managers as an introduction and sent through some recent material and self-tapes of mine. Just goes to show a good work never goes astray.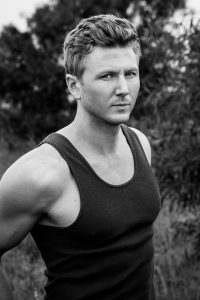 How to audition for a TV show in the U.S. came about because Laura Hersh at Industry Entertainment was really interested in me and how passionate I am about my work. She started sending me auditions for US projects that I would self-tape for while in Sydney.
The second self-tape I sent in was for Krypton. At 7am in the morning Laura emailed me asking when it would be a good time to call – she had just heard from casting that they loved my tape and were sending it straight through to the WarnerBros executives.
I could hear in her tone of voice the excitement, and she laid out how it would progress next. US auditions work a little bit differently to Australian ones – before you go in for your final recall all the negotiations and contracts are drawn up and you have to agree to the terms before you go in. In Australia the negotiations are done after you've been offered the role. It was very intimidating and exciting knowing all the potential options and the fee attached to this series regular before I had my final audition with the producers and the executives.
That's how I knew I narrowly missed out on the role – they usually don't see more than 3 or 4 people in these producers sessions, and having had all the negotiations and contracts worked out.. it's no longer just a shot in the dark.
It was a wonderful way to be introduced to the industry in LA and how to audition for a TV show in the U.S. My manager was able to use that heat to introduce me to other networks and execs, like Matt Skrobalak at CBS (a huge advocate for Australian actors) and that self-tape has served as a calling card to put me in front of other casting directors in the US.
Although I didn't book the work, I learnt how to audition for a TV show and I signed with my manager Laura Hersh at Industry Entertainment. I have a wonderful working relationship with her. I couldn't be happier with my team in Australia and the US. I'm processing my O1-B work visa and will be heading back to LA in January 2018 for Pilot Season.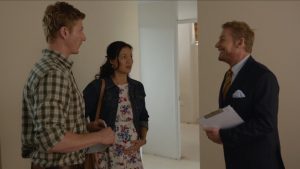 In Australia I've worked on Deadline Gallipoli (Foxtel/Matchbox Pictures) with Sam Worthington,Hugh Dancy, Charles Dance and Joel Jackson; Home and Away (7 Network); Rake (ABC) with Richard Roxburgh and Grace Huang; Top of The Lake: China Girl (BBC Worldwide/Sundance TV) with Elizabeth Moss and Gwendoline Christie and was most recently nominated for Best Actor at Made In The West Film Festival for a short film I acted in and co-produced called 'A Note To Self'.
Bio
ALASTAIR OSMENT was born and raised in Queensland, Australia. His father worked as a Jackaroo on outback stations throughout rural Queensland, New South Wales and Victoria before meeting his mother, a country school teacher and settling down in Brisbane to raise their children.
After high school Alastair undertook an electrical apprenticeship and worked across numerous construction sites as a trade qualified electrician. He was then accepted into the prestigious Acting program at the Western Australian Academy of Performing Arts; notable alumni include Hugh Jackman, Frances O'Connor, Jai Courtney, Dustin Clare and Dominic Purcell. Whilst at WAAPA his credits on stage included A Midsummer Night's Dream, The Crucible, Vernon God Little, Clinchfield, The Pillars of Society, Ten To A Room, The Merchant of Venice, Blackrock, Epsom Downs, and The American Clock.
His short-film credits include The Bookshop (AFTRS), Dog (IFSS), Choices, Three Men Walk Into a Bar, Pickles and What Are You Waiting For (WA Screen Academy). Upon graduation Alastair travelled to New York and auditioned for the MFA Acting program at the Yale School of Drama where he was offered a full-scholarship, but instead chose to pursue television and film opportunities in Australia.
Furthering his training Alastair has worked with world renowned acting coach Larry Moss on three occasions, and participated in masterclasses with acclaimed UK theatre director Ian Rickson and prominent US acting teachers Carl Ford and Elizabeth Kemp. His professional screen credits include Home and Away (7 Network), Deadline Gallipoli (Foxtel/NBC), Rake (ABC) and Top of the Lake: China Doll (BBC Worldwide).
Alastair Osment's 2017 showreel: https://vimeo.com/240414244